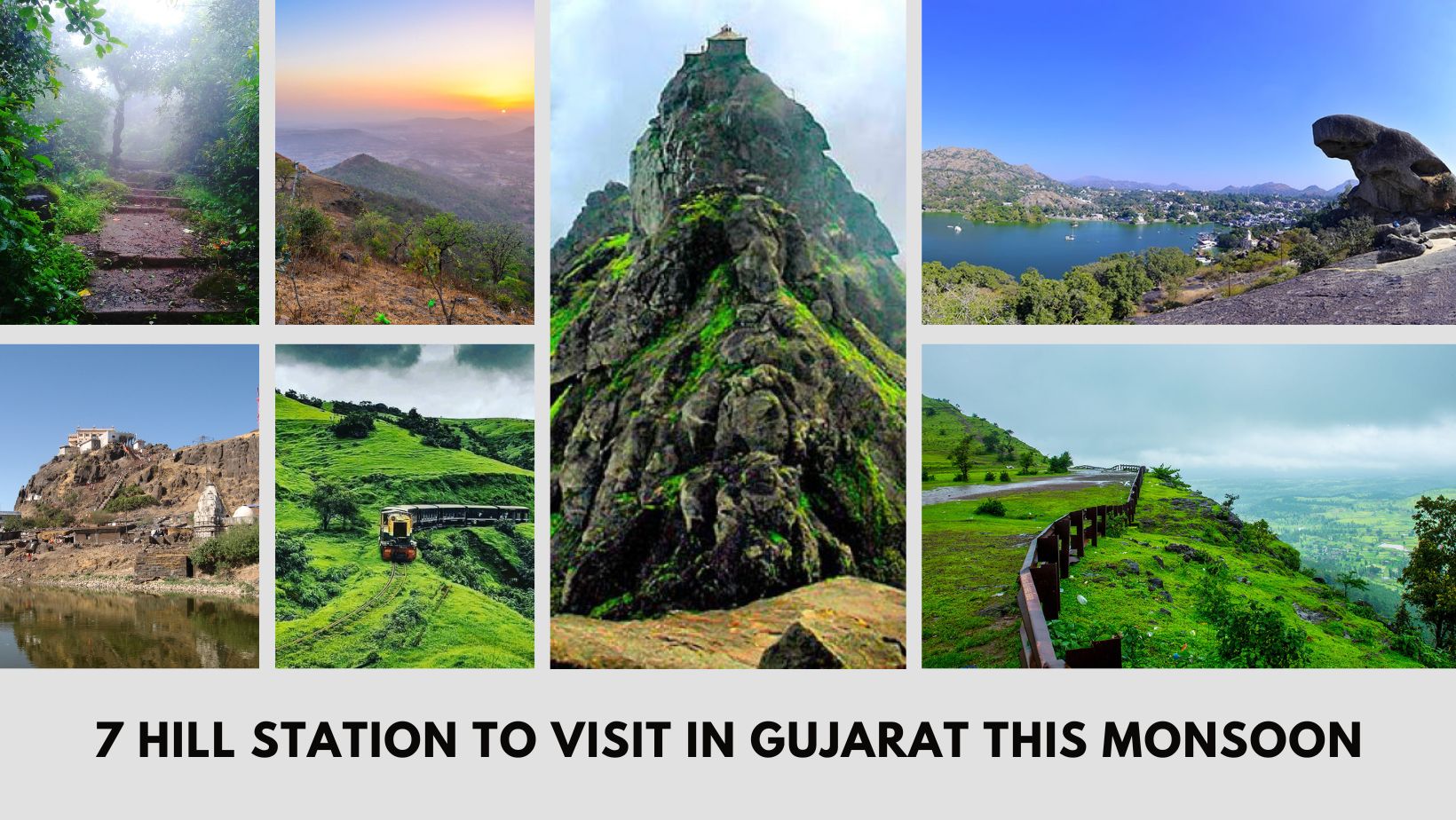 With open hearts, welcome the bountiful rains.
Thinking of Gujarat, the first thing that comes to mind is the extreme heat the people living in Gujarat experienced almost for 5 to 6 months. But now is the perfect time to take a chill pill and enjoy the raindrops with a child mist providing relief from the dreadful summer.
The thrill and delight are inherent in the word "monsoon." Words cannot adequately capture the beauty and joy that the monsoon brings to us. The monsoon season is also known as the season of human joy and renewal. No matter what the age is, everyone enjoys the monsoon season. The foggy atmosphere, the hot food, cold breezes and the rain, everything is just so romanticizing. The damp, dreamy fragrance of earth is generally one's favorite aspect during the monsoon. 
Gujarat's beauty is indeed something that is just beyond words. However, Gujarat is a kind of dry state near the desert areas of Rajasthan. What then can we do to take advantage of the rainy season? Hill stations are the ideal response to your query.
Yes, ladies, gentlemen & the young hearts there we have shortlisted some places by Gujarat Tour Guide for your escape. Read more to learn about the stunning, amazing, and captivating hill stations of lovely Gujarat.
WILSON HILLS 
Wilson Hills, close to the Dharampur Tehsil; in the Valsad district of Gujarat is the ideal location for anyone who enjoys being close to nature. As it is located in a heavily wooded area next to the Pangarbari Wildlife Sanctuary, the environment here is breathtaking. One of the better websites for those interested in trekking is this one. Wilson Hills will undoubtedly provide you with panoramic views with every step, including breathtaking valleys, spotless lakes, and hazy clouds, not to mention stunning dawn and sunset vistas over the sea.
Sightseeing at Wilson Hills includes:
Barumal Shiva Temple

Wilson Hills Museum 

District Science Center

Bilpudi Twin Waterfalls 

Marble Chatri Point

Shankar Waterfall

Ozone valley
Wilson Hills becomes a tropical haven from July through September. Rainfall that falls at the right times during the day adds to the atmosphere, erasing all the sophistication.
The distance from some different districts to Wilson hills is as follows:- 
Ahmedabad to Wilson hills:-366.2km

Vadodara to Wilson hills:-253.1km

Surat to Wilson hills:-121.4km 
SAPUTARA
Saputara, the lone hill town in Gujarat, is located on the boundary of the western Indian state of Maharashtra, deep within the Sahyadri Mountains.
There are no words to adequately describe Saputara's breathtakingly magnificent lake, green rolling hills, and monsoon-fed waterfalls. Saputara has a mild climate all year round and is endowed with natural beauty and biodiversity. Saputara is a great tourist destination since the natural beauty is undisturbed by humans and little exploited. Saputara is a great location for trekkers because of the hills and woods that surround the hill town.
Sightseeing at Saputara includes:
Nageshwar Mahadev Temple, Jain Temple and the Swaminarayan Temple. 

Boating facilities 

Step Garden, Rose Garden and Lake Garden. 

Pushpak Ropeway

Vandsa National Park
Saputara enjoys the relaxed atmosphere all the year-round, although the best experience one can have is during the monsoon season which is between July to September. 
Distances:

Ahmedabad to Sapatara: 400.6 km

Vadodara to Saputara: 287.5 km

Surat to Saputara: 155.8 km
MOUNT ABU
Rajasthan, an Indian desert area, contains a secret treasure. Being the only hill station in Rajasthan, India, Abu has its unique sense of pride. Mount Abu endures cooler weather and has some very breathtaking scenery as a result of its strategic geographic placement. The city of Mount Abu is a haven for thrill-seekers and is endowed with stunning surroundings and a wide range of experiences. 
Sightseeing at Mount Abu includes:
Nakki lake

Dilwara Jain Temple

Peace Park

Mount Abu Wildlife Sanctuary

Peak Guru Shikhar

Trevour's Tank Toad Rock 

Sunset Point
Although Mount Abu is a year-round weekend getaway, the best months to go there are from November to March.
Distances:

Ahmedabad to Mount Abu: 227.2 kilometers

Surat to Mount Abu: 493.8 kilometers

Vadodara to Mount Abu: 337.8 kilometers
DON HILL STATION
Saputara is about 50 kilometers away from Don Hill Station, therefore if you are planning to visit Saputara, it should be your next stop on the map. Don provides something for everyone even though these places are still relatively unknown and undiscovered. Everyone may enjoy these hill stations, including hikers and environment enthusiasts. The caves and the hilltop are popular destinations for cyclists and hikers. Additionally, the photographers enjoy spending time here to capture the crystal-clear skies and the sprawling vegetation. 
Sightseeing near Don hill station includes:

The Mahal Eco Campsite

Mayadevi Waterfall

Pandava Caves

Gira Waterfall
The monsoon months of July and October are the best times to visit Don Hill Station since there are regular rains that enhance the area's natural splendor.
Distances:

Ahmedabad to Don hill: 405 kilometers

Surat to Don hill: 150

kilometers

Vadodara to Don hill: 309 kilometers
GIRNAR
Gujarat has a legacy of a lengthy, well-known past. Girnar is a hill station in Gujarat that is proud of its rich history. Another name for Girnar is Revatak Parvata or Girinagar, which means "city-on-the-hill". In Junagadh, Girnar is a historic hill covered in 866 Hindu and Jain temples throughout the summits. The 9999 steps that go to Girnar hill summit are among the most difficult tasks. There is a Dattatreya temple where you may unwind and find tranquility at the pinnacle of Mount Girnar.
PLACES TO VISIT IN GIRNAR

 

The Uparkot Fort, 

The Mahabat Maqbara Palace, 

The Sakkarbaug Zoological Park

The Bhavnath Mahadev Temple, 

Girnar Wildlife Sanctuary 

The ideal time to visit Mount Girnar:
The months of November through February are ideal for visiting this pilgrimage site.
DISTANCE FROM DIFFERENT DISTRICTS OF GUJARAT

from Ahmedabad: 309.4km 

from Vadodara: 364.7km 

from Surat: 542.5km 
MATHERAN
Are you sick of the city pollution, the aggravating traffic, and the horn noises? 
Then this is the location you must visit.
Hill station Matheran being environmentally friendly and devoid of vehicles and buses blaring on the street, is renowned as the "cutest tiny hill station of India." Matheran is the tranquil location for watching the dawn and sunset and some mind-blowing scenery that rekindles you internally. It is located in the Western Ghats, situated at an altitude of around 800 meters above sea level. Travelers like to explore Matheran on foot and enjoy the town's picturesque charm. 
PLACES TO VISIT IN MATHERAN

Alexander Point

Rambagh Point

Echo Point

Charlotte Lake

Louisa Point

One Tree Hill

Prabal Fort and Irshalgad Fort

Other entertaining activities are toy train rides, horseback rides, and zip-lining.
T

he ideal time to visit Matheran:
The monsoon retreats and the weather is pleasant and great for touring in Matheran from October to November, making these months the best time to visit.
DISTANCE

:

 from Ahmedabad: 575 km 

from Vadodara: 460 km 

from Surat: 326 km
PAVAGADH HILLS
Gujarat is endowed to have a hill station that is popular as a pilgrimage destination. The Hindu deity Maa Kali, popularly known as the Great Black Mother, has a temple at Pavagadh Hills, a hill area in Gujarat close to Vodadra. The Kalila Mata Temple is one of India's 52 Shakti Peethas and is a site of the Champaner-Pavagadh UNESCO World Heritage Site. Additionally, a ropeway is built for devotees to access the temple without having to walk around 250 stairs.
SIGHTS TO SEE NEAR PAVAGADH INCLUDE

:

Shree Mahakali Temple Pavagadh

Jain temple

Jami Masjid

Champaner Pavagadh Archeological Park

Teliya Talav

Navlakha Kothar

Manchi Fort 
 To enjoy the clear, blue sky and a cool temperature between 12 and 29 degrees visit Champaner Pavagadh, a UNESCO World Heritage Site between October to February.
DISTANCE:

from Vadodara: 111.7km

from Surat: 267.6km

from Ahmedabad: 152.6km
Why do you still wait? The ideal way to experience the monsoon is from a hill station. Today, plan a trip to save your best memories.