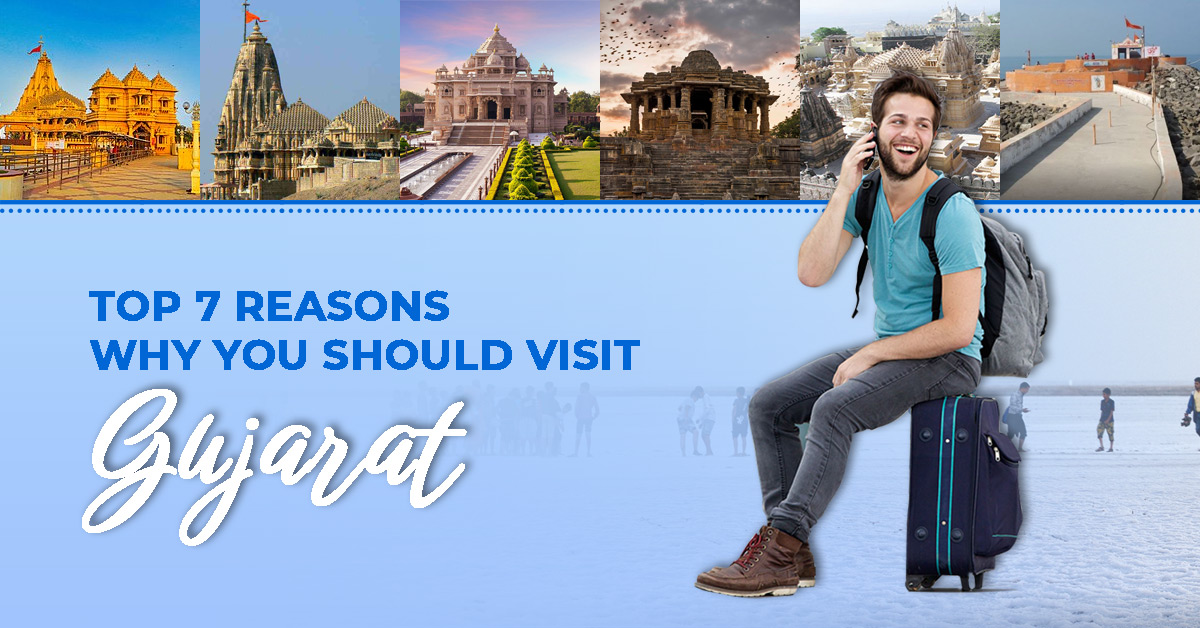 Gujarat, nestled on India's western coast, is renowned as the "Jewel of Western India". Gujarat is more than a country's state; it's a slice of paradise on earth, brimming with beautiful scenery, fascinating culture, and enthralling religion.
Here is a quick guide for a traveller looking steroids on dry weight for reasons for visiting Gujarat
1. A perfect destination for spiritual enlightenment–
You may pay a visit to some of Gujarat's most famous temples, which attract both devout and tourists. Gujarat's temples are architectural wonders that portray the state's previous splendor.
Some of the holy places in Gujarat worth paying a visit to are:
Somnath Temple, Somnath

Dwarkadhish Temple, Dwarka

Swaminarayan Akshardham Temple, Gandhinagar

Sun Temple, Modhera

Shri Shatrunjaya Temples, Palitana

Bhadkeshwar Mahadev Temple
& the list continues as there are more than 16 magnificent temples situated in Gujarat for all the devotees to find their peace and calm.
2. Fascinating tourist place–
The list of sites to visit in Gujarat is long and fascinating, extending from the dry white Rann of Kutch to exquisite clean beaches like Shivrajpura beach to the colonial ambience and grandeur of Rajkot. Gujarat's stunning sights have placed the state on the global map of the exceptional. Some of the tourist places you must not miss to explore are:
Sardar Sarovar Dam

Saputara

Rann of Kutch

Silvassa

Surat

Ahmedabad

Dwarka

Dang
& there are many more other places that won't disappoint you. 
3. Ancient city with a rich heritage site–
India is renowned for its rich cultural legacy, and the list of Indian architectural masterpieces is infinite. With a history ranging back over 5000 years or more, India is known for its rich cultural heritage, and the list of Indian architectural masterpieces is boundless. A visit to Gujarat will be a memorable trip as the richness of the distinctive Indo-Islamic architecture style of Gujarat of some of its architectural sites listed below:
Lothal

Adalaj Step-well

Sidi Saiyyed Mosque

Lakshmi Vilas Palace
Gujarat has a massive and royal heritage and history that is going to amaze you.
4. World's tallest statue-
Sardar Vallabhbhai Patel was a pivotal figure in the Indian independence movement. The Iron Man of India contributed by uniting India's 562 princely republics into a single nation. His efforts will be remembered by the entire nation. The world's highest statue of Sardar Vallabhbhai Patel was constructed under the leadership of Shree Narendra Modi. This statue is the pride of India and is located in Gujarat, which is yet another reason to visit Gujarat and see the world's tallest statue in person.
5. Shopping-
For everyone, shopping in Gujarat is a once-in-a-lifetime experience. The state is well-known for its handicrafts and possesses a rich history. While shopping in Gujarat, don't forget to explore cradle fabric, appliquéd patchworks, embroidered marital relationship clothing, lacquer furniture, ghagra cholis, bandhnis, patola silk sarees, embroidered footwear, and wall hangings. It's worth noting to dress in traditional Gujarati garb. 
Some of the places where you may shop till your bags are bursting at the seams:
Rander Road, Surat

Lal Darwaja, Ahmedabad

Law Garden, Ahmedabad
6. Food–
Gujrati Cuisine is the best option for all vegetarians for delectable and mouth-watering food. Gujarat's diversified food is one of the attractions of visiting the state. Exploring Gujarat's food is perhaps the finest way to get to know a state and cut to the core of its amazing culture. Dishes like Jalebi-fafda, Dhoklam and Locha are surely going to be a treat for your taste buds.
7. Festival-
India is known for its unity in diversity. Each state has its unique culture and tradition that has been passed on through generations. Gujarat is incomplete without Gujratis, and Gujratis are incomplete without Garba (A traditional dance form of Gujarat). Although each celebration is spectacular, the festival of Navratri in Gujarat should not be skipped. Over the nine nights of Navratri, people from all over the world flock to Gujarat to witness the culture, which includes individuals dressed in Chaniya-Choli and dancing Graba. Other celebrations, such as Uttrayan, will make your heart skip a beat.
No number of reasons would ever be enough to describe the beauty of Gujarat.
KUCH DIN TOH GUJZARO GUJARAT MAIN 
and experience the joy here.