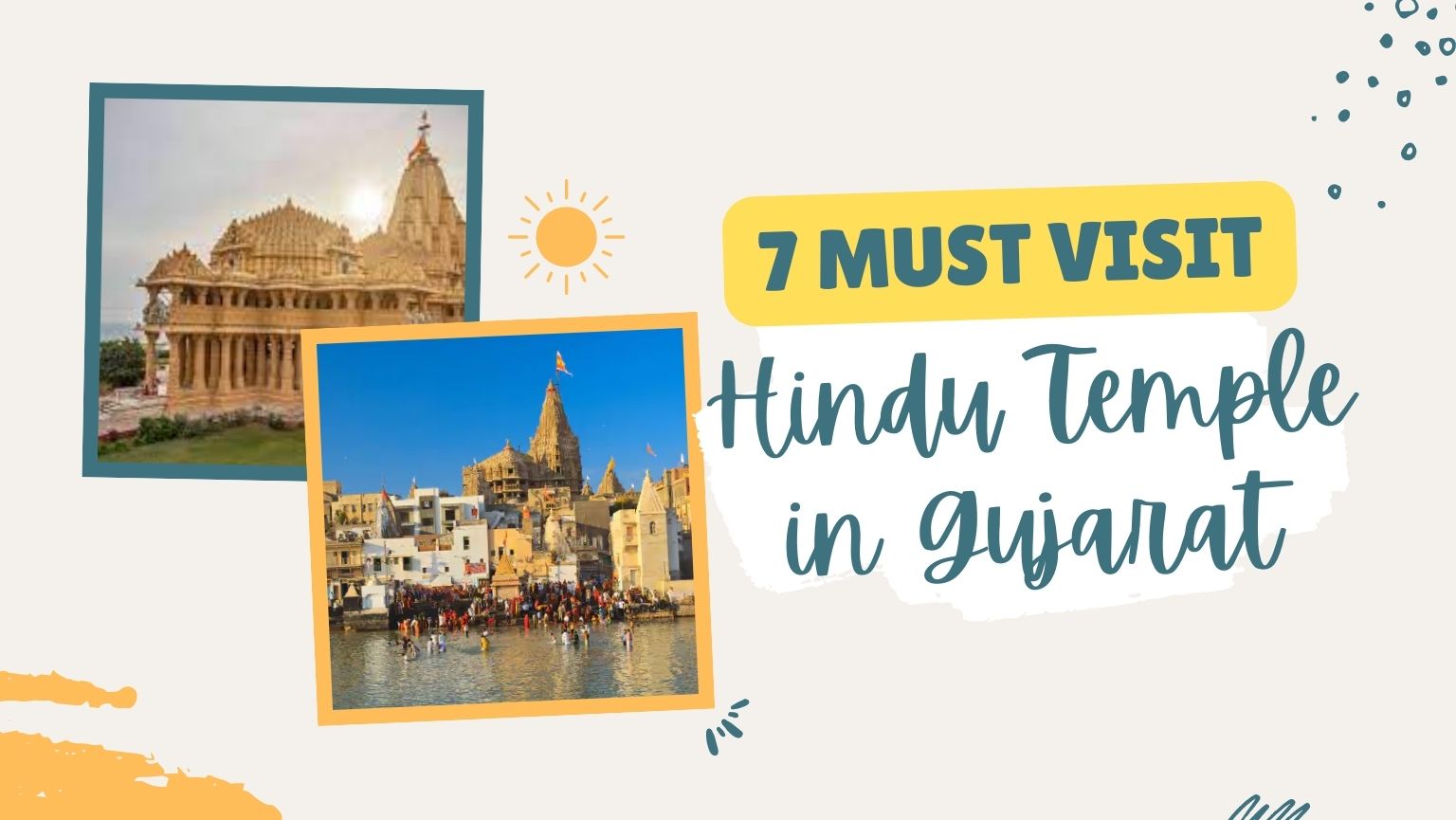 Gujarat, commonly referred to as the "Jewel of Western India," is well recognized as a city filled with excitement, joy, and beauty. Gujarat is also known as the "city of everything" as it is the home of Lord Shiva Lakulisa Avtra's birthplace, the tallest monument in the world, the largest salt desert, the traditional charm, and food in an unlimited variety.
While Maa Ambe is worshipped during the auspicious holiday of Navratri, many Gujarati believe in and recite "Jay Shree Krishna" because they believe that Lord Krishna is the god of their land.
There are unquestionably many temples in Gujarat, each having its symbolism, beliefs, and story. The grandeur of these temples is beyond words to express.
Let's learn about a few of the temples, including their noteworthy past, location, and the ideal time to visit these magnificent, well-preserved old monuments.
1. Somnath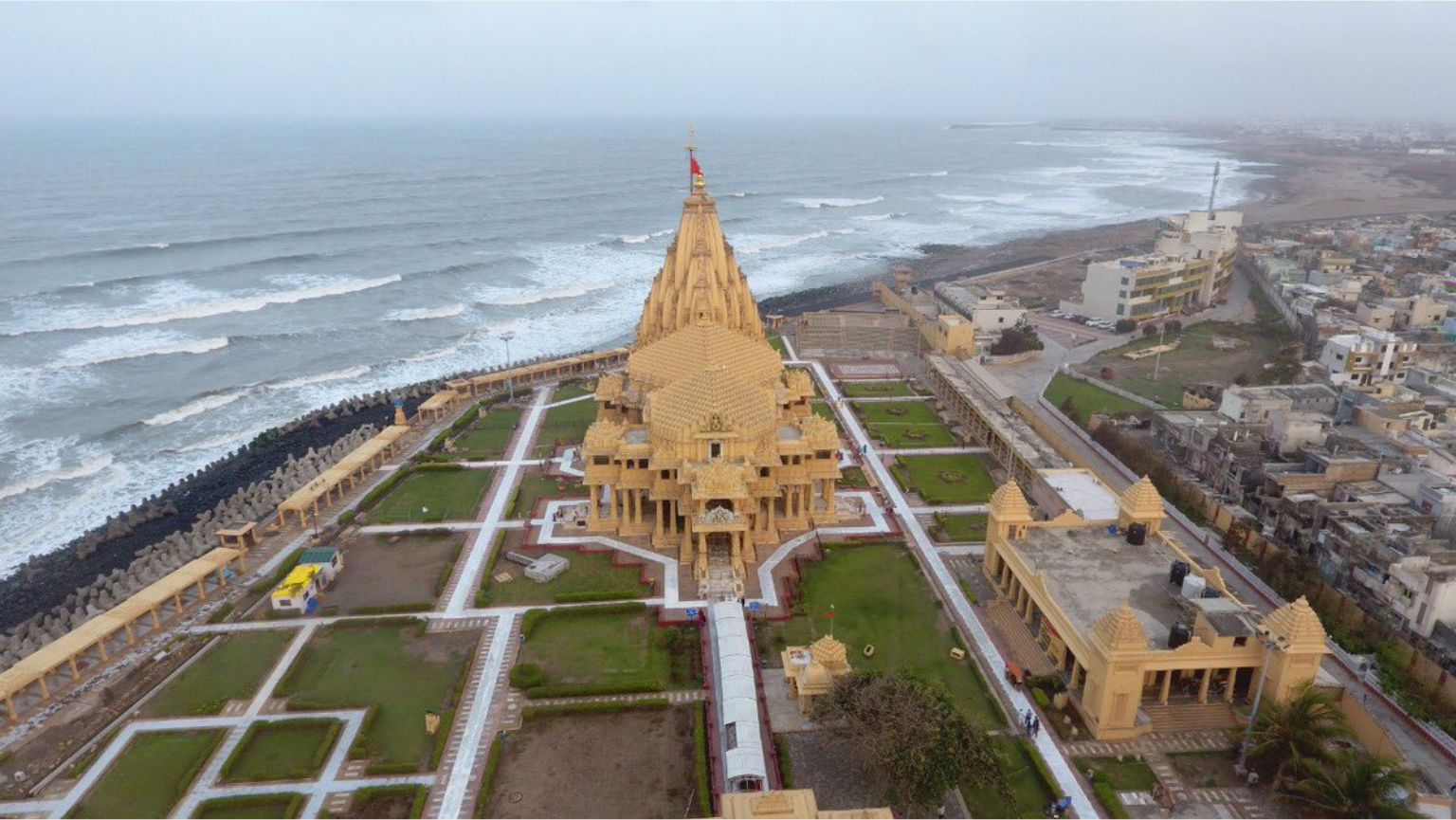 When we think of the moon, Lord Shiva, who has the moon on his head, is the first thought that comes to mind. The word Somnath means "The Protector of Moon God."   The temple is acknowledged as one of the oldest in the nation and has a significant history. This temple's architecture is skillfully designed and contains genuine gems. The Somnath Temple in Gujarat has more than 1,400 Kalash, and because the temple trust has gold-plated them, it is considered one of the oldest and richest temples.
Sightseeing near Somnath temple includes:

Bhalka tirth
Somnath beach
paanch padav gufaa
Laxmi Narayan temple
Triveni sangam temple
Suraj mandir
From October to January Somnath temple has to be on top of your list as the weather is pleasant and suitable for sightseeing.
-from Ahmedabad: 404.0 km
-from Surat: 618.8 km
-from Vadodara: 459.3 km
2. Dwarka: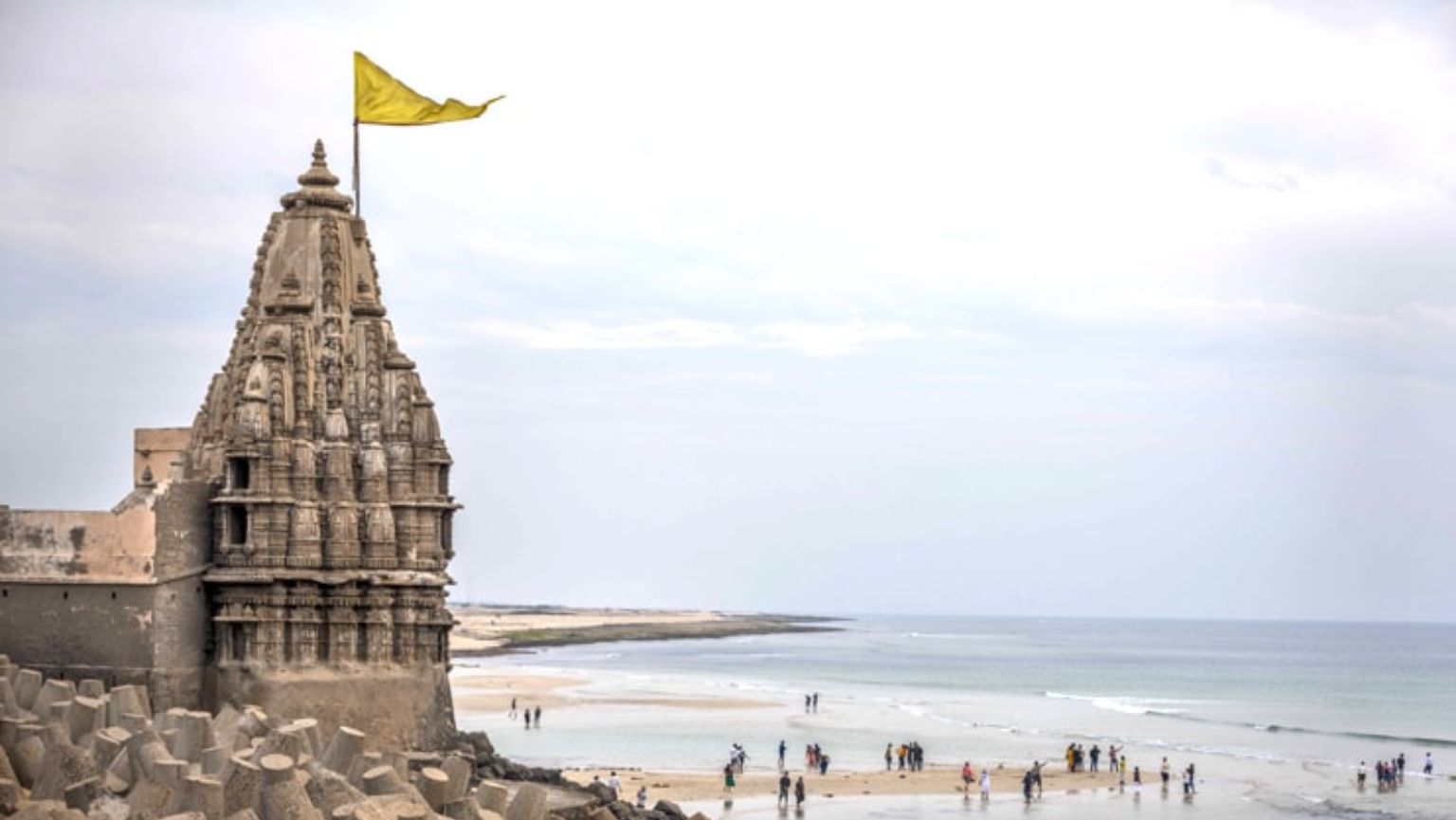 Dwarka temple, known as Lord Krishna's former home, is located in Gujarat's Saurashtra region in the Jamnagar district. Tourists travel to Dwarka from all over the world to see the magnificent architecture and hear the temple's significance stories. People believe that the Shree Krishna idol at Dwarka is known as Dwarkadhish. People at Dwarka believe that if you ask for something with your whole heart, you will get it (depending on how strongly you believe in your deity). Not only is Dwarka a holy site, but it also offers a variety of activities ranging from boat rides to night concerts. The Dwarka night performance is widely known and should be a part of your Dwarka itinerary.
Sightseeing near Dwarka includes:

Dwarkadheesh Temple
Nageshwar Jyotirlinga
Beyt Dwarka
GopiTalav
Shivrajpur Beach & Lighthouse
Nexon Beach
The ideal time to visit Dwarka:
Dwarka usually enjoys a pleasant climate from November to February, making it the ideal time to visit Shree Krishna's hometown.
Darshan at Dwarkadhish Temple is available from 6:30 a.m. to 1 p.m. and from 5 p.m. to 9:30 p.m.
-from Ahmedabad: 404.0 km
-from Vadodara: 459.3 km
-from Surat: 618.8 km
3. AMBAJI: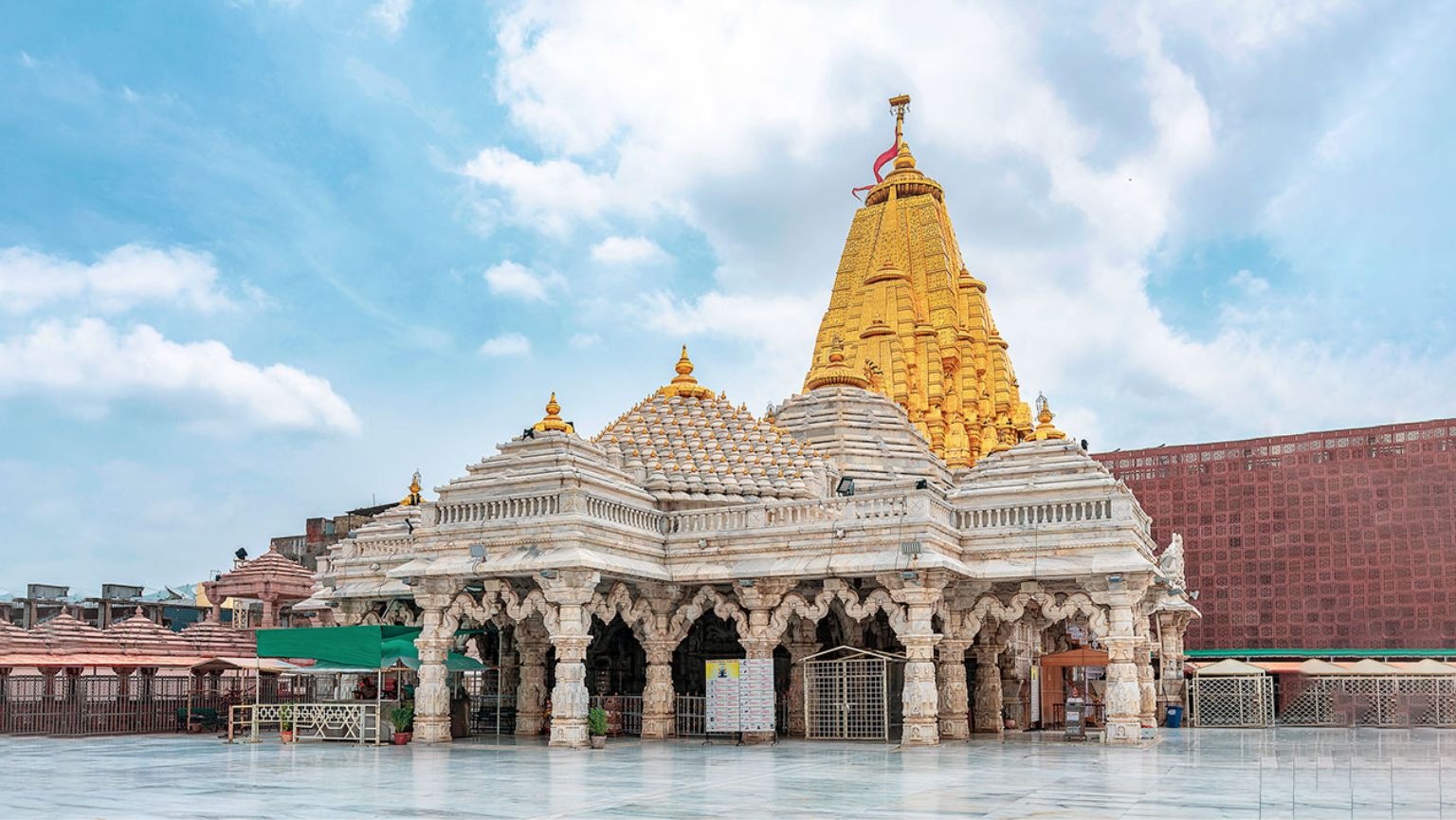 Ambaji, a temple dedicated to Amba maa, is located near the border of Gujarat and Rajasthan, close to Abu Road. The primary Ambaji shrine dates back to the pre-Vedic period. The architectural works of art at Ambaji temple are visually appealing and well-crafted. There are numerous other temples dedicated to Goddess Amba near Ambaji. Ambaji is one of the 51 Shaktipeeths in the Banaskantha district and will soon have a Shikhar of gold. There are 300 stone stairs at the bottom of the hill, after which the pilgrims must climb up a treacherous, narrow corridor.
Sightseeing near Ambaji includes:

Koteshwar
Gabbar hill
Kailash hill
Kamakshi mandir
The ideal time to visit Ambaji temple:
The best part about Ambaji is that you can go whenever you want; every season is ideal for Maa Ambe's darshan.
-From Ahmedabad: 172.6 km
-From Surat: 278.6 km
-From Vadodara: 434.6 km
 4. Akshardham Temple: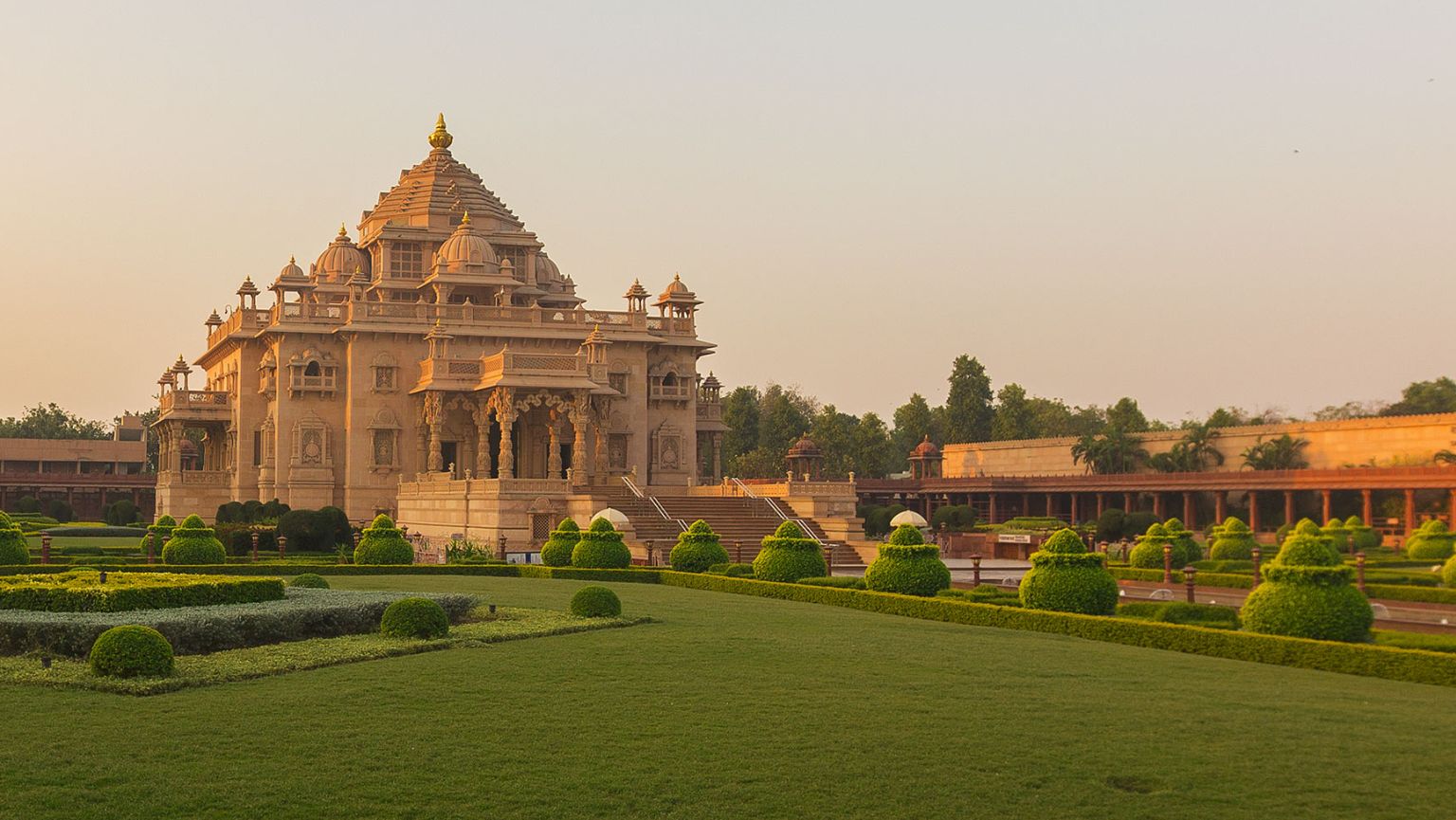 The Akshardham temple is an intricately carved stone structure set among sprawling gardens on a 23-acre plot in Gandhinagar. Seeing the infrastructure here will make you wonder how such a massive monument was built with 6000 tonnes of pink sandstone and no steel at all. The complex's focal point is the monument enshrining Lord Swaminarayan's seven-foot-tall gold-leafed Murti (idol).
Devotees who come here can learn more about Hinduism's history and imbibe the message of universal peace and brotherhood. The nightly Light & Sound show is a must-see for recreation.
Sightseeing near Akshardham includes:

Heritage walk of Ahmedabad
Jami Masjid
Bai Harir ni Vav
Shaking Minarets
Kankaria Lake
Gandhi Ashram
The ideal time to visit Akshardham Temple:
One can go to Akshardham whenever they want.
From Tuesday to Sunday, from 9:30 a.m. to 8:00 p.m., Akshardham temple doors are open to devotees.
-From Ahmedabad: 30 km
-From Vadodara: 135 km
-From Surat: 291.8 km
5. Modhera Sun Temple: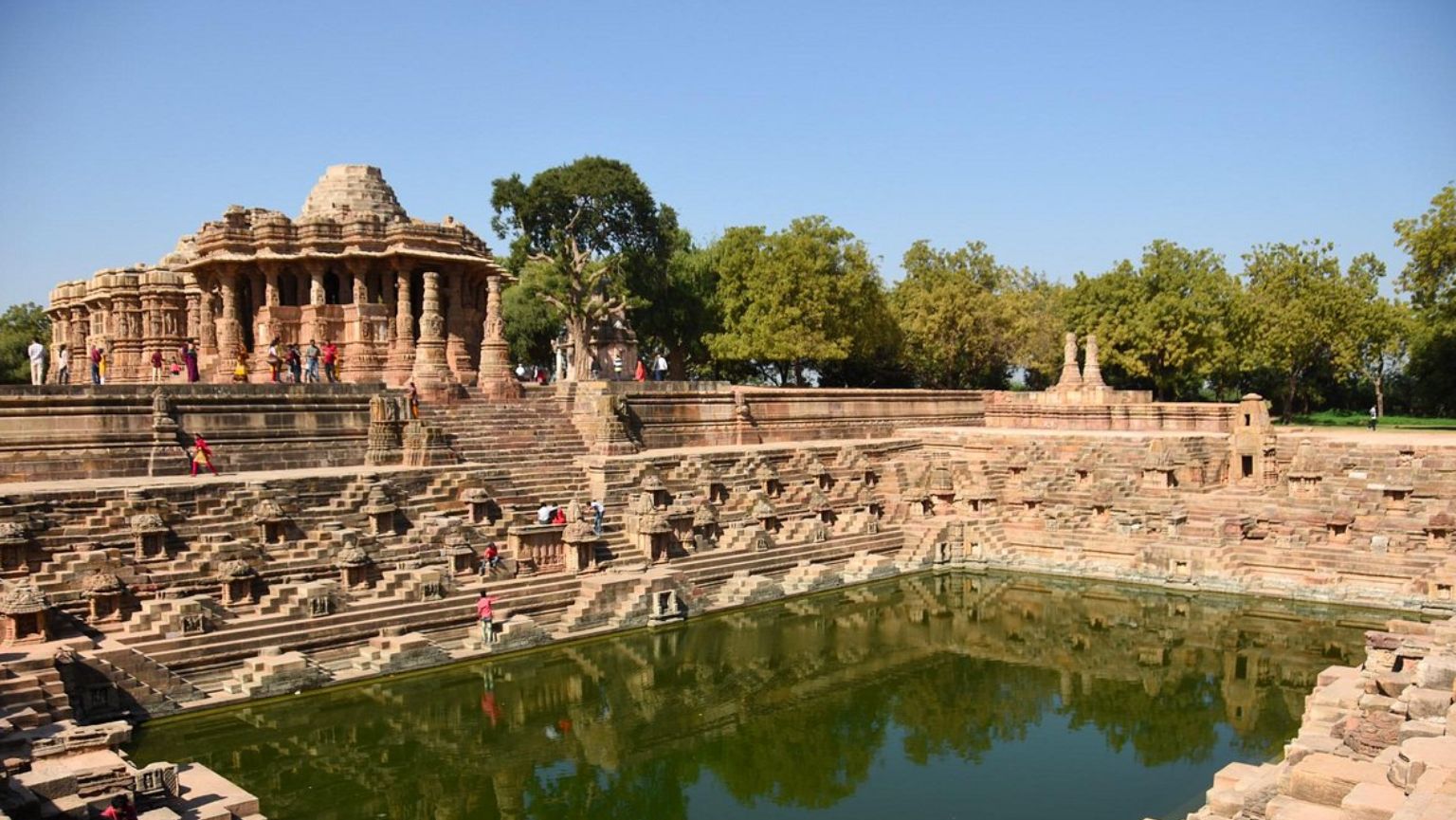 Hindus worship the Sun because they believe it is the ultimate source of energy and that worshipping him can lead to better health and longevity. The Sun Temple near Modhera, located 25 kilometres from Mehsana, is one of a kind, dedicated to Surya deva. The temple comes alive in the third week of January with the Uttarardh Mahotsav, a three-day dance festival. The magnificent Sun Temple in Modhera was built entirely of sandstone in the Maru-Gurjara style. The temple's carvings depict stories from Hindu epics such as the Ramayana and Mahabharata, as well as other Puranas. The carvings also show elements of Fire, Air, Water, and Earth's connection to the Sun.
Sightseeing near Sun Temple, Modhera:

Surya Kund.
Sabha Mandap
Guda Mandap
Bohra Havelis
UNESCO site- Rani ki Vav
The ideal time to visit Akshardham temple:
The best time to visit Modhera is between October and March. Rains arrive in Modhera from July to September, making it an ideal time for rain lovers to visit.
-From Ahmedabad: 98.5 km
-From Vadodara: 209.1 km
-From Surat: 365 km
6. Jagannath Temple: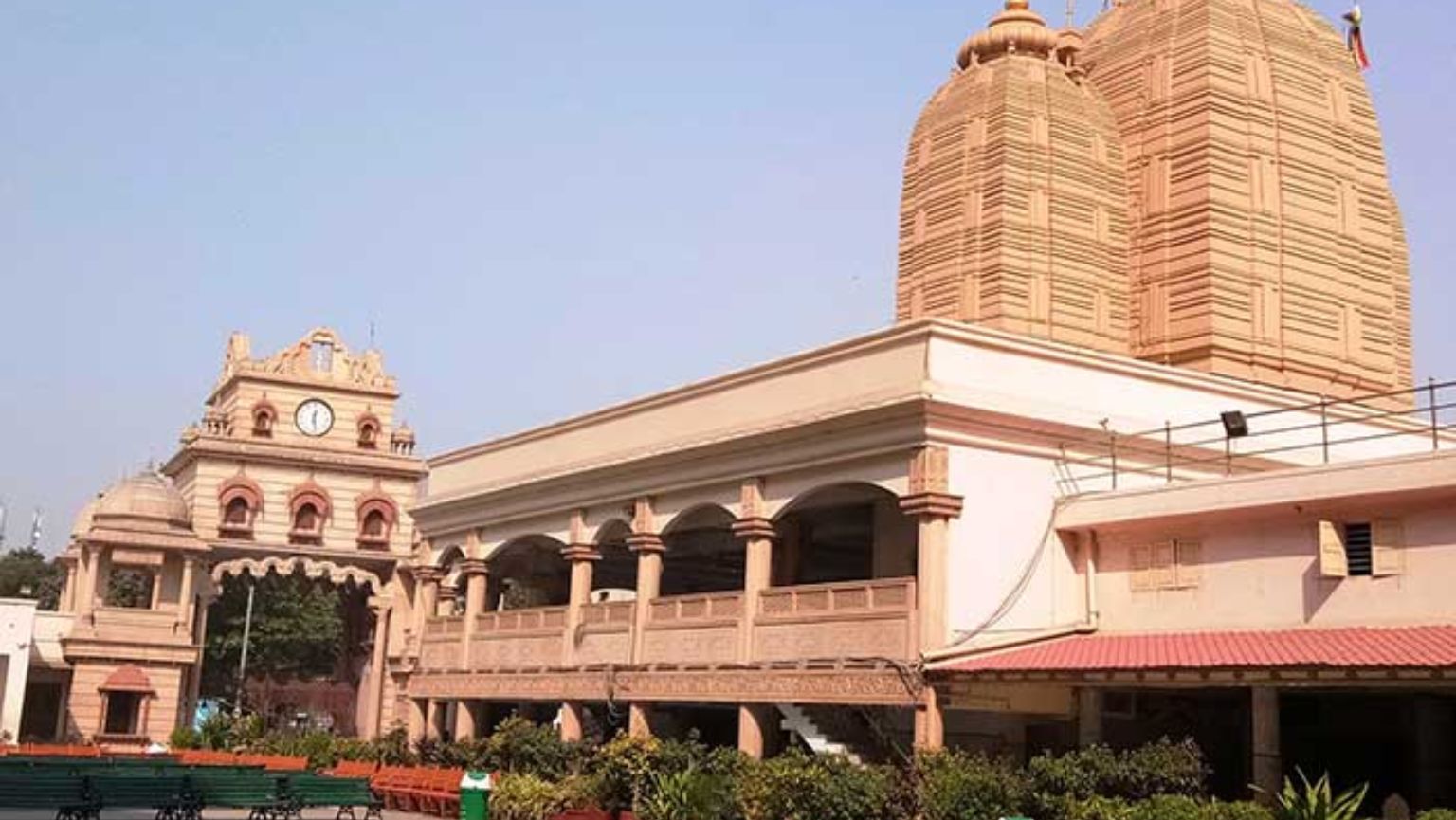 The Jagannath Temple is a Hindu temple located in Ahmedabad, Gujarat. Sadhu Sarangdasji built this shrine, which is dedicated to the holy deity Lord Jagannath, about 450 years ago. This temple is renowned for the very famous Rath Yatra. Rath Yatra is a significant procession held every year in June or July near this temple and it is also known as the Gujarati "Lokotsav." Chariots carrying the idols of Lord Jagannath, Balaram, and Subhadra are the main attractions of the procession, which begins in the morning.
Sightseeing near Jagannath temple:

Sabarmati Riverfront
Kankaria Lake
Jama Masjid
Patang Kite Museum
The ideal time to visit Jagannath temple:
The best time to go to the Jagannath temple is between June and July because you can see the auspicious Rath Yatra then.
-From Vadodara: 110 km
-From Surat: 262.2 km
7. Girnar Hill:
Another name for Girnar Hill is Revatak Parvata. Due to its abundance of Jain and Hindu temples, this hill is a well-known destination for pilgrims. Pilgrims from far and wide come to overcome the long climb up 10,000 stone steps to the top of the mountain, covered by four gods and goddesses.
Temple of Amba Mata atop the first peak. The adventure here becomes pleasurable as the hill steepens. There are significant uphill and downhill travel paths between the temples. At 1117 meters, Gujarat's highest peak is where the Gorakhnath Temple is there. The shrine honouring a three-faced manifestation of Vishnu is rooted atop the steep top known as Dattatraya. Up on the last hillside is where the Kalika shrine is.
Sightseeing near Girnar hill:

Sakkarbaug Zoological Gardens
Uperkot Fort
Damodar Kund Water Reservoir
Adi Kadi Vav
Navghan Kuvo
The ideal time to visit Girnar hill:
Due to the popularity of the Bhavnath Mela among the local devotees, November to February is the best time to visit Girnar Hill.
-From Ahmedabad: 309.6 km
-From Vadodara: 363.2
-From Surat: 519 km
Gujarat Tour Guide has been on the top of the list of pilgrims from all over the world as there are many magnificent temples and glorious history. Start your pilgrimage Yatra in the truest sense from Gujarat's Tour Guide Package and Kuch din to gujaro Gujarat me to experience, perceive and inherit the state's beauty.